18 décembre 2011
7
18
/

12
/

décembre
/

2011
18:27
A party for killing 1314 cats in Christmas
"猫天使"死灰复燃,虐猫群计划圣诞虐猫狂欢
Hi guys, it's a joyful time as Christmas and Spring Festival coming. However, some demons are going to challenge human consciences!

Previous:
Kill cats with maltreatment-- "peanuts"(one lovely homeless cat) vs "cats angel"(the killer). The killer is extremely cruel and rampant, that stimulate other conscientious people "googling him". Everybody felt so pain and angry. But cause of information asymmetry and the "untrustful web story", this mission went fail. We can only hope the "cats angel" can save his own humanity by Peanuts' death.
Dec.1st.2011, Cats Angel appeared again with posting photos of killing one 2years-old-male cat "Simba" by his old ID: Two Orioles. We are shocked and despaired by those sanguinary photos and describe in details.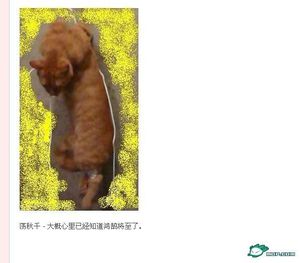 Swing--he might know his time coming.
Dec.4th. 2011, a "killing cats group" QQ number was exposed by net friends: 176462696, the owner of this group number is 849723062, several anti-killing animals friend sneak into this group number, try to find something.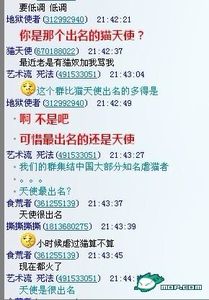 The famous " Angel of cats " in this QQ group in which
are assembled most well known cat's torturers.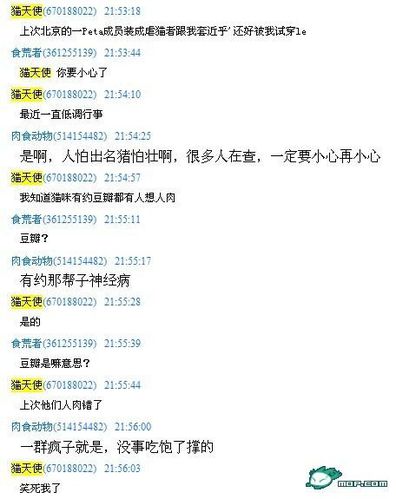 Mocking animal protect volunteers and
telling each other to be alert.
Animal protection volunteers have seen plenty of bloody photos and the information about "how to maltreat and kill cats". The owner of the group emphasized many times :to be a part of the group, you have to kill two cats by cam on live, one big cat should be cut apart in the stomach; the other small one should be taken the both eyes!
They even talked about how to "adopt" homeless cats from the groups of protecting homeless dogs and cats. Furthermore, these demons even "study" how to cheat on the identification register.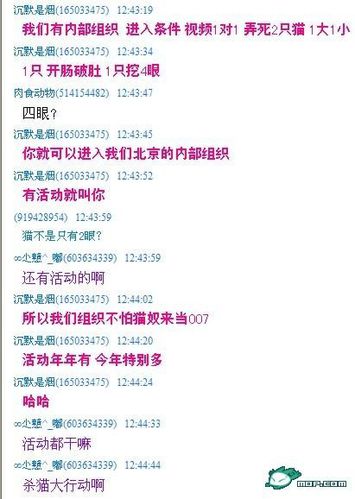 Silence is smoke(165033475)
We are organized. Qualification for entry is:
killing two cats: one is grown, the other is kitten.
Silence is smoke(165033475)
Our organization does not care about those cats slaves here as "James Bond".
Silence is smoke(165033475)
Every year we have events, especially this year! Ha ha...
On the evening of Dec.25th, somebody announced the QQ group number accidentally, which informed the members of "killing cats", and they made a hot discussion through the QQ group with a purpose of fighting against these animal protectors.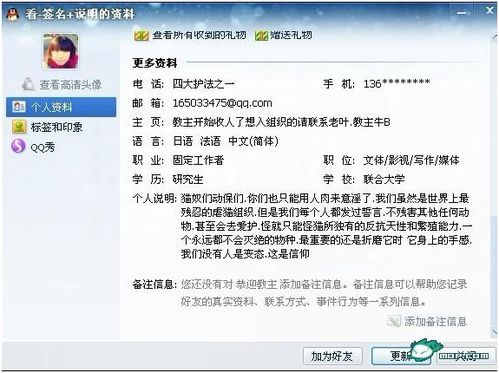 Homepage:
I want to recruit members, if you are willing to join us, just contact the...
Personal note: Cat slaves, animal protectors, you just have a daydream of searching for us. Although we are the cruest abusing organization, every one of us has promised that we will never hurt any other animals, even we will protect them. What caused our behaviors are the special natural instincts and reproduction of cat. It is a species which will never disappear. What's more important, when we abuse the cats, the feeling is so cool. We are never abnormal, abusing is just a kind of belief to us.
It is not strange to us that she is the High-heel Hierarch. According to her words, it is so easy to kill more than 100 cats within one month, she has varieties of tools, and is keen on exposing many self-inventing ways of abusing cats in the QQ group.
From Dec.6th, the master of the group seldom spoke. It was on Dec.10th that her personal note read: let's have a Christmas Eve party and present a nice gift which is actually a large-scale abusing cat revelry. What's more, they plan
to use some animal protectors' photos and ID as disguise in order to slander real animal protectors.
We should never keep silent! There is no way to come to term! We will no longer let them challenge with kind people all over the country in such a rampant way!! This is not only confined to the event of cat abusing, but these people are living with us nearby or just passing by. Imagine that such hard-core psychopaths and cruel killers are distributing on different trades and fields, will they kill humans some day? Are you angry or afraid? We obtain good education and abide by ethics, how can we turn a blind eye to what they do and connive at the missequence of the net and allowing them to put on a killing party at Christmas Eve? Think about these innocent cats, they do nothing wrong. Although they have no home no food, even nothing to rely on, they have to defend being caught by humans. How can they bear so many afflictions? How can we endure the threat to ethics and conscious.
Let's call for Law on the Protection of Small Animals and punish these contemptible abusers for what they did.